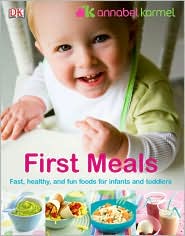 In general, Will is a pretty good eater. Sometimes he goes through phases of not eating his the good ol' standbys, and when he doesn't feel good he loses his appetite. But all in all, he eats just about everything. Obviously, he likes some food better than others. He could and would eat fruit all day everyday for every meal if I let him. We haven't met a fruit he doesn't like so far. I think his absolute favorite are blackberries. He gobbles them up before I can finish cutting them to put on his plate. It's unreal!
This week was an exception to the rule. I must've read his mind of what he was craving on top of the sizes and temperature of his food being just right, and the stars in the universe were aligned. I made
Bow-Tie Pasta with Ham & Peas from Annabel Karmel's First Meals cookbook
. I was turned on to her by Lani when I was running out of finger foods to give Will and she gave me a recipe for salmon balls that he eats up, too. Definitely a must for a beginning eater! I'll share this recipe soon since it's time I make another batch! It is also really handy that she tells you which recipes are great for freezing. This recipe made a lot of sauce so I used half of it now and froze the other half. I still had 2 containers of leftovers in the fridge to warm up and feed him the rest of this week.


Bow-Tie Pasta with Ham & Peas

Preparation Time: 5 minutes
Cooking Time: 15 minutes
Makes 4 portions
Provides calcium, protein, B vitamins including folate, vitamin A, and zinc
Sauce is suitable for freezing

1/4 lb pasta bows (farfalle) - I used Barilla Piccolini Mini Farfalle, perfect size!
1/2 vegetable stock cube - I didn't use this. I guess she wants you to season the pasta water with it.

Sauce Ingredients
1 1/2 tbsp butter
2 tbsp flour
1 1/4 cups milk
1/4 tsp dry ground mustard
1/2 cup frozen peas - I used 1/2 the bag of peas...but Will likes peas, so I get as many in him as I can.
1/2 cup grate mature cheddar cheese
2 oz sliced cooked ham or prosciutto, cut into strips - I used pancetta, diced, and sauced it in the butter before adding the flour to make the rue. Next time I'll use more of it though.
salt & freshly ground pepper

- Cook the pasta in boiling, lightly salted water according to instructions on package.
- Meanwhile, make the sauce. Melt the butter in a small pan, stir in the flour to make a paste, and gradually whisk in milk & mustard. Stir in peas and cook for 3 minutes. (I measured these out, but ended up using a little more. I think I started with more than the 1 1/2 tbsp of butter. It makes a lot, so I just added milk until it was at a better consistency.)- Remove from the heat and stir in the cheese until melted. Add the ham, heat through, season, and toss with the pasta. (I like the added flavor of prosciutto or pancetta when you saute it in the butter first. I'd even use bacon too. And with cheese...I definitely used more than the 1/2 cup recommended. Probably more like 3.5 good handfuls.)Some variations:
- To make a vegetarian version, omit the ham and add 1 cup sliced button mushrooms sauteed in a little butter until tender.
- Alternatively, omit the ham and add steamed small broccoli florets and diced carrots to the cheese sauce.
- You could also make this using a mixture of grated cheddar and gruyere cheese.

I actually heated up extra for me to eat while I fed Will because it's tasty! All of the recipes I've made of hers so far would be perfect to serve the rest of the family too. It's not just for the wee-tots!