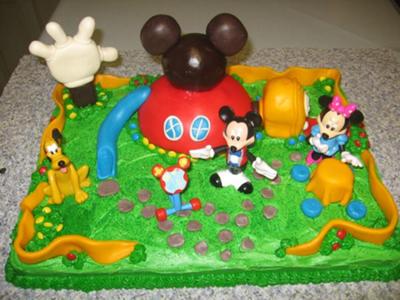 I figured I would take you along the ride with me to plan Will's first birthday. I cannot believe we are t-minus 46 days until Will's FIRST BIRTHDAY! Insane! This year has flown by! T-minus 45 days until his birthday party. Holy Moly!
After Hubby put Will to bed, we put the laundry away, and were about to chillax for the evening, I asked him to help me figure out what to do for Will's invitations. I am a planner. I love the look and feel of a cute invite for a fun party. I'm a sucker for stationary, among many other artsy fartsy things. So for Will's first birthday, I will be doing a cute invite while trying to be budget friendly. This is going to prove to be a bit of a challenge.
Hubby and I decided to have a Mickey Mouse themed party for Will since he is obsessed with
The Mouse and his Clubhouse
... So we decided to go with the fairly classic MMC colors for the invites. Here are the colors. These online swatches don't do them justice, though. The blue is the real, cool, electric blue...
Now I need to figure out how many I need, come up with a cute rhyme, and print the invites. My goal is to have them in the mail by the end of this month. How cute is
this cake
?! It looks just like Mickey's Clubhouse! Hmmm...we'll see how brave I feel to make attempt this myself... Although the
2nd cake
might be a little easier since it's 2D and not 3D... And who doesn't love a good
cupcake/cake mixture
!