I know I've been severely MIA lately... We JUST finished being sick, so now I'm playing catch up like a mad woman. Laundry & dishes were like Mt. Everest in our house. Not to mention just cleaning, wiping, & washing all of the sickness out of our house. Gross.
Well, before, during, and after being sick...here's what I've been up to:
My baby sister (no, she's not a baby...she's 18...) decided she wanted to repaint/redesign her room.
Of course
she would come to me with this news! Woot! So as part of her Christmas present, I picked up some supplies and we got to work.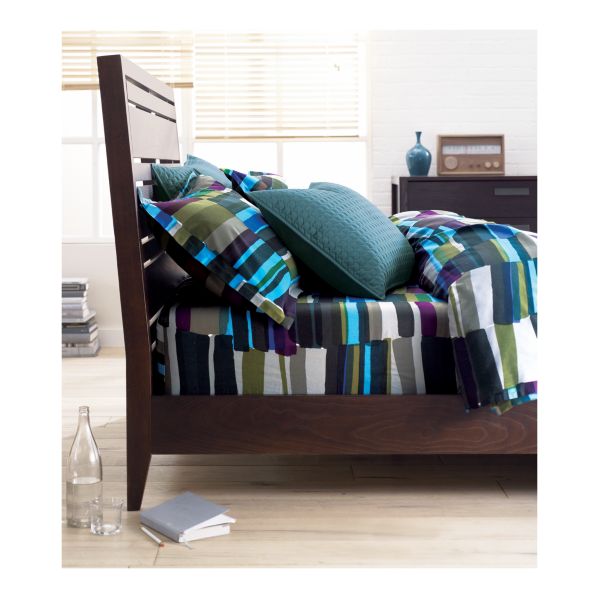 She picked out this bedding from
Crate & Barrel.
So here we are priming the walls...buh-bye old, childish colors. Hello new sophisticated look!
After the primer was on, we started slapping up some paint. We picked out
Martha Stewart's Slipstream
. LOVE IT!
She wanted to add a horizontal stripe in a contrasting color all the way around the room. After checking out her new bedding in person (thank goodness it arrived before we bought the paint!), I talked her into using
Martha Stewart's Plum Wine
. To. Die. For!
Here's a the Slipstream completed
Another angle
Next up was taping off the stripe:
I used Lani's awesome trick for the stripe. Put up the tape, apply some
Mod Podge
on the edge of the tape to help crisp up the line. It TOTALLY helped prevent the paint from bleeding through! Ah-mazing!
Here's the stripe! I only got a quart of paint and it was exactly enough. Seriously, there wasn't a drop left!
We still have a few things to get to finish up her room and then I'll post the final reveal! Looks good so far though!
We also painted her bathroom the same color:
I forgot to take a before picture...but it was a bright blue with fishes I painted on by hand. I was sad to see the fishies go, but it was time for a new look.
The new full length framed mirror I found for $12 at Home Goods, and was a great upgrade from the frameless broken full length mirror that was there before.
Of course, painting a room or two wouldn't be possible without it snowballing into the rest of the house. So...my parents' house has been the latest project on my list. My mom wanted to paint the kitchen yellow. I found
Behr's Primer+Paint Caribbean Sunrise
.
This yellow is the perfect shade! It's so warm and buttery. Even in the evening, when the sun is going down, it feels like there's a light on in the room, when there isn't. It's bright and cheery and fab!
Next up is their Living Room. I nicely put up GIANT swatches so they could see which color they liked, but also to light a bit of a fire under their tushies to paint since the kitchen & living room haven't been painted since they moved into the house 12 years ago. I painted my sister's and my rooms and the bathroom probably 6 years ago, but that was the extent of my projects back then.
The left swatch is
Martha's Hickory
, and the right is
Cityscape
(the winning color!)
And those are just the projects at my parents' house! I've got a few of my own including, but not limited to:
New shades for the kitchen window and a little touch-up since I was clearly too lazy to take down the shades when I
painted the kitchen
last February.
My
new duvet
should arrive tomorrow. Woohoo!
Phew! Ok...time to get back to work!