On a BUDGET no less!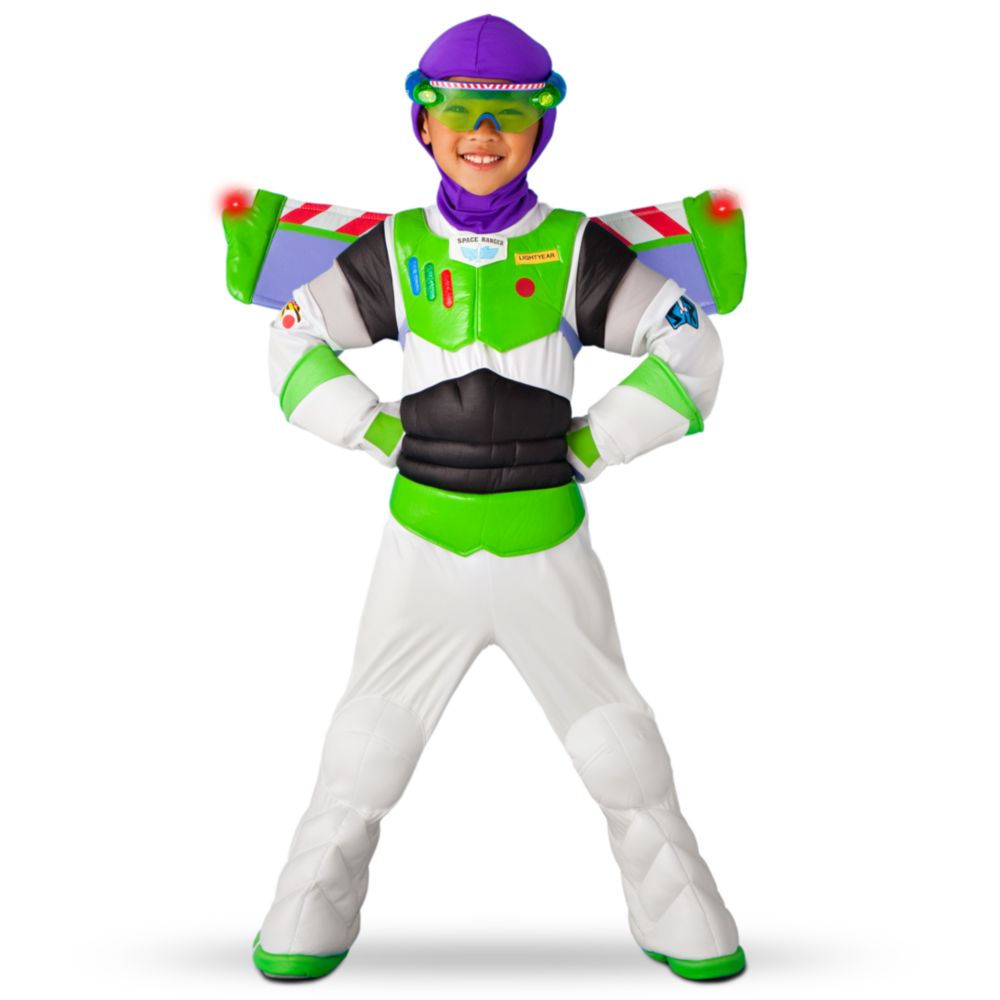 This Halloween, I was going to take it easy. Will is all about Toy Story and all things Buzz Lightyear, so I figured I'd just buy him the super cool Buzz Lightyear costume from
The Disney Store
, complete with wing tips that light up.
Well, October was an super busy month in our household and I made the mistake of waiting until October 28th to go get Will's costume. Disneyland was completely sold out of Buzz in an XS or even an S. If your kid is a medium, well congrats to you because you have your pick of the liter. So I started calling around. Finally, I found one that had ONLY ONE LEFT, and I had her put it on hold. $48.40 later, I am thinking "He better wear the crap out of this costume from now until the pants are high waters".
Friday morning rolls around and I try the costume on him. Full blown meltdown ensues. Probably the worst meltdown I've seen him have in months! He's crying and screaming, and doesn't cease until I take it off. I try to tell him "You can fly if we put it on, like Buzz!" and I fly myself around he room. No go. I put just the wings on myself and he has another meltdown. Ok....?
Hmmm.... Maybe we'll try again Saturday morning. While
Skype
-ing with Lani, I try it on him.
Another
meltdown. What if I just leave the costume out on the coffee table for him to play with during the day. Will threw the wings and dragged the costume around. At least he's touching it, right? He pushed the button to make the wings like up, but the second I tried to put just the wings
on
him, he freaked out. Ugh...
So after his bath Saturday night, he was in a great mood. I had Hubby try just the wings on him. He melts down in Hubby's arms.
What the heck?!
This was no where near the kind of reaction we thought he was going to have to this costume. It was boggling our minds! For the life of us, we still can't figure out what his hang up was with that costume! It's not itchy. It's not too tight. It isn't scary. I really just don't know.
It was 8:15pm Saturday night, October 30th. I got in the car while Hubby put Will to bed, and went to
Target
. Once I was there, I
got a Tall toffee mocha from Starbucks
called Hubby to rattle off the clothing choices available to see what we could come up with. The verdict: The Human Torch from The Fantastic 4. Thank you
Target
for your cheap sweatshirts and sweat pants! Once I grabbed a navy crew neck sweatshirt and navy sweat pants for Will, I wandered around and picked up sweatshirts for Hubby and I as well. Might as well make us 3/4 of the Fantastic 4!
I came home and got to work. I found the Fantastic 4 logo online, printed it out in the size Hubby figured would be best for each sweatshirt (he's my superhero expert), and used a piece of white felt I had leftover from last year's Halloween costume for Will to cut each "4" out. I hand sewed each 4 onto the shirts. I had Will's and Hubby's done before midnight. Woot!
Sunday morning, Halloween, we went to our favorite diner for breakfast and stopped at
Joann's
on the way home to pick up a few more supplies. We found some really cool flame fabric to use on Will's costume. Hubby cut out flames to place on Will's costume while I finished stitching 4's on his and my shirts.
Let me save you some trouble... DO NOT use spray adhesive to attach fabric to fabric. It sticks really well at first, but once you put the clothing item on, it's going to fall off. We found this out the hard way, as we're trying to leave the house. Ugh. Nothing like a craft project falling apart to really tick you off! Throw in a kid that was having issues listening and your neighbor's dog barking incessantly, and you could see the steam coming out of my ears. I yank the costume off Will and grab the fabric glue. Yes, I should've just done this from the start, but I thought the spray glue would work just fine and it was easier.
Hubby threw some other clothes on Will and came to help with Will's mess of a costume. His costume was in good shape at the end of the night, considering the kid ran us around the block for an hour and a half trick-or-treating. He has two speeds: sprint and sleep.
Moral of the story: I should've just gone with Plan A at the beginning of the month. MAKE THE COSTUME! Last year his Captain America was such a hit! And it's less expensive to make a costume that is comfortable for the kiddos to wear than it is to buy a ready made one. DUH!
Navy onesie - $4
Navy sweatpants - $3
Mens Navy crew neck sweatshirt - $6.49 x 2 (for mom and dad)
Flame fabric - $6.29
Total - $26.27
For half the price of a store bought costume, we made costumes for our whole family. Seems like a no brainer. And I guess it just goes to show that just when you think you've got your kid(s) figured out, they prove you wrong.
Will had a blast running around the neighborhood, getting candy from strangers, and telling them "teet o teet!" and "fooof fooo!" (aka "Flame On!"), and we all had a blast chasing him. He had trouble with the concept of putting candy into the bucket, at first. He wanted to hold on to it for dear life! But by the end of the night, he figured it out. Yay!
I'm sure he will now expect people to give him candy when he comes to their door.