Will has gotten
every
ounce of use out of his infant carrier/car seat. When Lani was pregnant with Hunter, we helped put together her
Chicco Cortina Travel System
after her baby shower. I was really impressed with it. It looked good, was easy to assemble, and light. After doing research while I was pregnant, we bought the same system and have not been sorry. We even have the matching
Chicco Polly High Chair
to match. I only have a few gripes about that, but that's a topic for a different day. The weight limit for the Chicco Cortina Infant Carseat is 22 lbs and 1 year old. Will is dancing right along this weight limit. Chicco also has the same
Cortina Travel System with a 30 lb limit
, just FYI. I don't the infant carrier would work for Will much longer because he's long. His legs are already scrunched up against the back seat. If we had gotten the
KeyFit 30
instead, I would probably be in the same position, just with a smidge more time, but not much.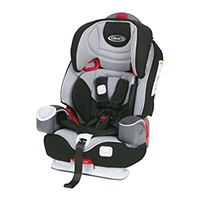 So the big question is what to get next? As much as I would love to stay in the Chicco family just because I've been impressed with all of their products we've purchased so far, they do not offer a convertible car seat. They just came out with a
booster car seat
, but Will is a couple years away from that. I was sold on the
Graco Nautilus 3-in-1 car seat
because it's in my budget, has great reviews, and is basically the last car seat contraption we'll have to buy for Will. It has:
5 point harness for your 20-65 lbs kid
converts to a seat belt positioning booster seat for 30-100 lbs
converts to a high back or backless booster seat up to 100 lbs.
comes in lots of colors (I'm a designer at heart...colors & looks are a little important, too!)
And it's
$144
! What a steal! However, in the back of my mind, I'm worried about it not being rear-facing. "
They
" (
American Academy of Pediatrics
, studies, doctors, etc...) say that you're supposed to keep your child rear-facing in a car seat as long as possible (car seat weight limit requirements and all...), and this contraption does not rear-face. This is my baby, safety is my #1 priority.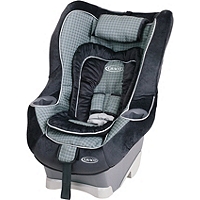 So after further research, I think I'm opting to keep my little Will rear facing as long as possible. I think we will go with the
Graco My Ride 65
. It can:
Keep your kid rear-facing up to 40 lbs
Keep your kid forward-facing up to 65 lbs
Removable infant insert and toddler headrest help keep baby comfy
5-point, front-adjust harness helps you get baby in and out
And also comes in lots of colors!
And hello! It's on sale at Walmart for
$129
!
So please give me your input!
What did you purchase for your little one?
How long did they sit in the rear-facing car seat?
Any tips and advice would be extremely helpful!