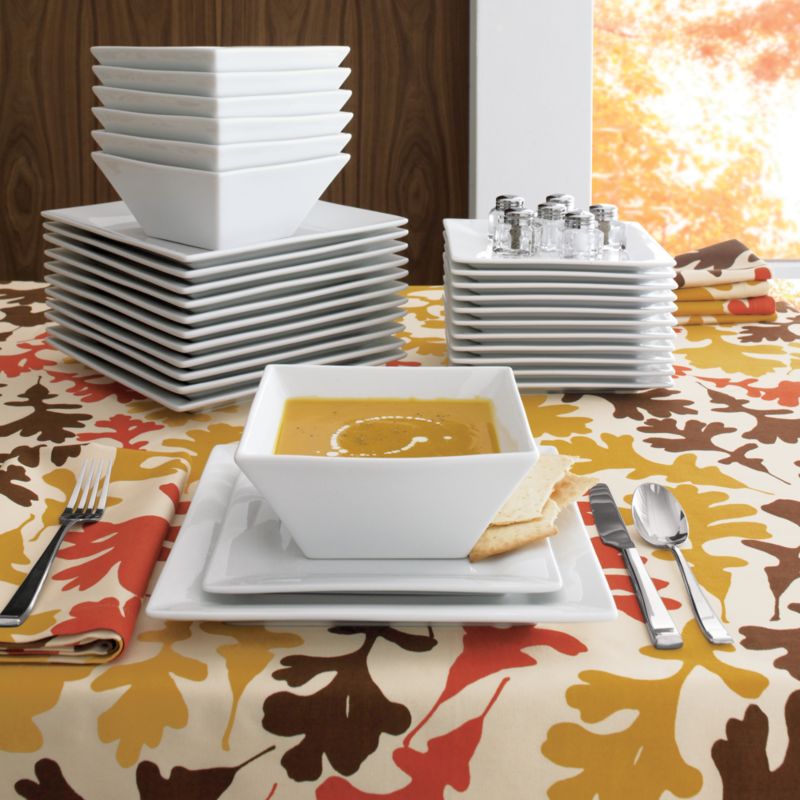 Not that I by any means have the cash to spend on something fun like a new fall/Thanksgiving tablescape, but a girl can dream...
I saw this on
Hostess with the Mostess
. I have to admit that I am addicted to this blog. She constantly has adorable themes for all different kinds of parties, cool stuff for your home, and just in general fun creative items that get my crazy creative juices flowing.
I also have a love affair with
Crate & Barrel
. The color combinations they have speak to my soul (wow...how over dramatic am I today?!). I've always loved the rich, saturated colors, and in particular the fall colors. Our wedding was just fall colors because I couldn't narrow it down. I just love color and I think everyone looks good in the darker, richer, more saturated colors. This table cloth is just that. I already have a table runner that I got from Crate & Barrel a couple years ago, but this one is so much better! I have a hard time buying the typical cheesy turkey riddled table runners or cloths because it's just not me. I like the more modern, subtle approach to this holiday for some reason. And probably because this is something that I could use in our house year round.
I also have to comment how I love the square dishes. We got dishes for our wedding 3 years ago. They're plain, white, and a little rustic because they're hand made, but I just LOVE these square ones. I'm just a square kind of girl.
I do have a coupon for C&B...maybe I can manage to sneak it onto the table without Hubby noticing...ha ha! If only he were that non-observant. I guess I'll just continue to dream of Foglia Tablecloths and White dishes dancing in my head...